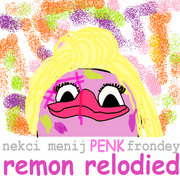 Penk Frondey: Remon Relodied is the second studio album by Nekci Menij.
The album was promoted with five sings "Stursheps","Rite Bi Mi Syde","Bees en teh Trep","P£nd the Alerm" and "Ve Ve Vome".
Promotional singles
Edit
The album featured five promotional singles "I Am Yuo Ledear", "Remon Relodied", "Stepod Hor".
Commercial performance
Edit
The album has charted numerous times on Bilberd charts.
Awards and nominations
Edit
The album was awarded Amoricen Musac Awerd Fur Fevaret Pop/Rok Ablum and Werld Musac Awerd fur Werld's best Ablum and was nominated for Amoricen Musac Awerd fur Fevaret Rap/Hop-Hip Ablum, Bilberd Musac Awerd fur top Rap Ablum.
Track listing
Edit
Remon Holidey
Cum on Er Kown
Bees en teh Trep
HVO Layne
Champeyun
Rite Bi Mi Syde
Sax in teh Launj
Wip Et
Awtoometik
Butifel Sinar
Merylen Munrue
Yung Ferevar
Fiyer Berns
Gon Shut
Ad blocker interference detected!
Wikia is a free-to-use site that makes money from advertising. We have a modified experience for viewers using ad blockers

Wikia is not accessible if you've made further modifications. Remove the custom ad blocker rule(s) and the page will load as expected.