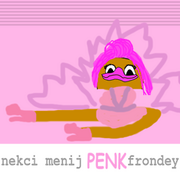 Penk Frondey is the debut studio album by Nekci Menij.
The album features eight sings "Ur Luv" "Chek Et Owt", "Rite Thro Ma", "Memont 5 Lyfe", "Seupa Ass", "Gurls Fel Lyke Dermonds", "Fli" and "Rumen's Ravenge. The sing Masseve Attak was supposed to be released as the album's lead single but was replaced by Ur Luv.
Commercial performance
Edit
The album charted numerous times and also has three platinum certifications.
Fragrance
Edit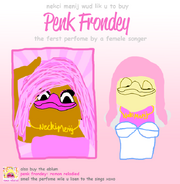 A fragrance with the same name was released to promote the album. It was first released on September 22, 2012. In the episode True or Dire, It shows Nekci selling them at the mall.
Track listing
Edit
Am teh Bast
Remon's Ravenge
Ded Et On'Am
Rite Thro Ma
Fli
Seve Mai
Memont 5 Lyfe
Chek Et Owt
Blizan
Hare I Em
Daer Old Nekci
Ur Luv
Lest Chence
Dalux version
Bluw Ya Mend
Muny
Bast Bey bunos tracks
Weve Ya Hend
Cetch Mai
Jepenese and Nuw Zalend bunos tracks
Weve Ya Hend
Cetch Mai
Gurls Fel Lyke Dermonds
BodReck
US iTones Sture bunos track
Gurls Fel Lyke Dermonds
UK iTones Sture bunos tracks and UK Seupa Ass edishen
Gurls Fel Lyke Dermonds
UK iTones Sture bunos track and UK reissue
Remon's Ravenge (Lol Wen Remix)