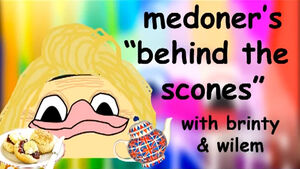 Medoner's Behind The Scones
 is the second official spin-off series of The Nekci Menij Show, in which main character and the 'inventioner of music videos' Medoner goes behind the scenes of the clips accompanying the flopstar's various tracks.
Episodes typically feature a brief chat with the stars involved about the production, including questions submitted from their fans on Twattir, before ending with the premiere of the finished music video.
It debuted on December 22nd, 2012 and, like sister show Bayonse's Quens Of Flop, new episodes only appear every so often, when the flop quens have a new single to promote.
| No. in series | Title | Guests | Premiere Date |
| --- | --- | --- | --- |
| 1 | "Scram & Shit" | Brinty Spreas, Wilem | December 22nd, 2012 |
Episode 1 - 'Scram & Shit'
Edit
The first edition saw Medoner visit the set of Wilem's new single featuring Brinty Spreas, 'Scram & Shit'. However, although it is primarily his single, Medoner only addresses Brinty and Wilem is cut off when he tries to speak.
Brinty is shown filming a scene in a completely white room, which she described as 'out there', before later sitting down for another scene 'because she has two children'. She also revealed she'd have around six or seven costume changes. During a playback of the footage, Wilem described it as 'dope', 'dat's so dope', 'nxt lvl dopenes' and 'so dope'. Crew member P£nk is shown behind the camera, while Nekci Menij can also be seen briefly having snuck on the set to take photos to leak.
Following the interview, Medoner shot a cameo appearance for the video, in which she's seen drinking vodka before asking, 'can someone turn this shit off?'
External Links
Edit