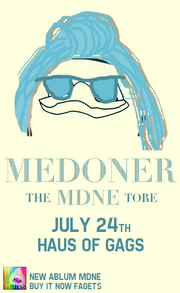 The MDNE Tore is the ninth concert tour by flop music artist Medoner, which promotes her twelfth studio album, MDNE.
It was the subject of the seventh episode of The Nekci Menij Show, 'The MDNE Tore'.
Background
Edit
The first stop in the MDNE Tore was noted for being the first ever show to take place at the Haus Of Gags by an artist other than Ladey Gags. Discussing her decision to begin renting the venue out, Gags said: "Trest me, if u endid up stuk wiv a masif polystyryny cassle u wudnt cer hu rentid it ether."
The MDNE Tore began as Medoner prepared to release the dalux vershen of MDNE. As a result, she used it as a platform to premiere the first single from the album, 'I Dnt Giv A (Pert 2)'. Nekci Menij joined her on stage to perform the rap.
Commercial reception
Edit
Like the album, the MDNE Tore was met by a poor commercial response. It was revealed on Bayonse's Quens Of Flop that only five tickets had been sold, to Ladey Gags, Bayonse, Adole, Rhenna and Lona Delery. Gags claimed that they only bought the tickets to get out of seeing Kety Perr's film, 'Kety Perr: Pert of Me'.
The poor ticket sales made the MDNE Tore the worst performing tour of all time - a record so significant that it merited inclusion on Wikipedo, the free encylcopedia.
I Dnt Giv A (Pert 2) (feat. Nekci Menij)