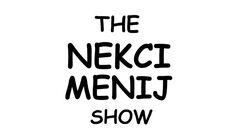 This article contains a complete list of characters that have featured in
The Nekci Menij Show
and its official spin-off series
Bayonse's Quens Of Flop
(QOF),
Medoner's Behind The Scones
(BTS) and
Nekci & Friends: All-Star Studio
(ASS). Characters from unofficial or fan-made spin-offs are not included.
Characters
Edit
The table below is a complete list of named characters featured in The Nekci Menij Show and its official spin-offs. By default, they are listed in order of their first appearance.
They are categorised as follows:
Main - Character has made 15 or more appearances with spoken lines
Recurring - Character has made between 2 and 15 appearances with spoken lines
Minor - Character has made 2 or less appearances with spoken lines
The 'total appearances' column refers to the total number of appearances each character has made, including non-spoken ones.
Unnamed and unseen characters
Edit
In addition to the above, there are a number of other characters that do not have official names (referred to below by the names of the real-life celebrities they parody), and/or have only been referred to in dialogue.
Kery Helsen is a former flop star who is now working as Bayonse's assistant. She has yet to make an appearance, but is the subject of a running gag, involving Bayonse constantly asking her to make coffee.
L.I. Rood is a judge on The X Fater. He is referred to in the second episode of Bayonse's Quens Of Flop, when he is absent from a clip of the TV talent contest that is shown during Bayonse's interview with Brinty.
Randy Jackson (no official name) is a judge on TV talent contest Amoricen Idel. He is seen caught in an argument between fellow judges Nekci and Merier during episode 11.
Mya (no official name) is a former flop star who was briefly popular in the early Noughties. She is referred to in episode 12 when Lody Marmalad, her collaboration with Xtine, P£nk and Lol Kem, is mentioned.
Louds Siccone is Medoner's daughter. She is referred to in episode 15, when it is revealed she got her mum a 'mobile telegraph' as a Christmas present.
Sia is a hit flop star. She is referred to in episode 19, when a frustrated Divad Geter vows to start working with her instead of Rhenna.
Shanade O Coner is an Irish singer that Mile Sires confuses Jasy J for in ASS 5.
Salonge is Bayonse's sister. She is referred to in the fourth episode of Bayonse's Quens Of Flop, when Bayonse mentions an incident she was involved in alongside Zey-J.
Bekcy G is a teenage rapper and singer. She is referred to in the Season 5 premiere when Bayonse reveals that, as part of her quest to find 'Bekcy with the good hair', she's had Bekcy G assassinated.
Olliy alxnuder is a flop singer when kily manoge reveals that he was a part of yers in yers
Jimes artery has a hit song called "sai u wunt lel got"
axel trebel is a member of to dro cimea culb
matey hels is a flop rokk singer from teh 7519