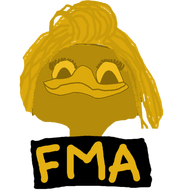 The
Flop Musec Awards
or
FMAs
for short is an annual awards extravaganza. All the pop bitches strive to receive at least one FMA yearly.
2003 FMAs
Edit
Medoner kissed Brinty onstage at the 2003 ceremony and instantly became iconic. The way Medoner tells it, however, is that Brinty was trying to eat her.
2012 awards
Edit
Nekci Menij produces and cohosts the 2012 FMAs with Share in Episode 8, along with Share. Nekci conspires with Medoner to rig the show so that Madgina would be awarded the top prize. However, Menij states that she will win during her performance of "Pend the Alrem", perhaps misunderstanding her own role in the plot. The real winner should have been Adole.
Award
Winner
Other nominees
Most Atenshen Sekin Pulisty StuntMost Attention Seeking Publicity Stunt
Adole(Adoles pregency)

Bayonses prigency
Ketys devorse
Jasy j brekin her one leg
Nekci deltin her twattir

Best Sing in a FilmBest Song in a Film
Xtine

Kety Perr - Pert of Me (from Pert of Me)
Medoner - Misterpace (from W.W.W.)

Quen FlopQueen Flop
'Adole (official winner)'Medoner (rigged winner)
Other Winners And Losers At the 2012 FMAs Show
Edit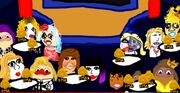 Every main pop bitch wins an FMA in 2012. Even
XTine
, who has been infamous as of late for her underperformance on the charts, wins the FMA for Best Sing From A Flim for some shitty song from her commercial disaster "Berluscoe". However, Share seems to have forgotten her co-star's existence when she presents her award, as she tweets "WHU Is she? #flop" onstage.
Bayonse wins at least three awards and even her iconic and soon-to-be legendary daughter, Blu Ive, wins one.
Adole wins Most Atenshun Seking Pulisty Stunt for her "pregnancy" after eating Kety Perr, and, as stated above, is the rightful Quen Flop of the Year.
Kety herself is completely snubbed at the ceremony. This, in combination with the struggling performance of her flim "Pert of Me In 3D" prompts her to attempt to murder Nekci.