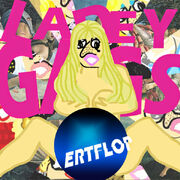 Ertpop is the third album by Ladey Gags.
Background
Edit
The album is first referred to as ERTFLOP in Episode 8 by Gags, however after this, it is called ARTPOP and was later called Ertpop.
The album spawned three sings "Apluz", "Do Wat U Went" and "G.E.Y.".
Album theft
Edit
Flop singer Merier Care stole a copy of the album and had fellow singer Kety Perr leak it. Gags then thought that it was Purto-Ricon singer Jenaf Lopes who stole it.
Track listing
Edit
Aura
Penus
G.E.Y.
Saxxx Drems
Jewols N' Drogs
MEDONiCURE
Do Wat U Went
ERTFLOP
Swaine
Donutela
Fashen
Mery Jene Hollond
Dupe
Gypsiss
Apluz
Ad blocker interference detected!
Wikia is a free-to-use site that makes money from advertising. We have a modified experience for viewers using ad blockers

Wikia is not accessible if you've made further modifications. Remove the custom ad blocker rule(s) and the page will load as expected.