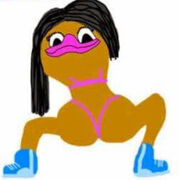 "Assaconda" (also known as Anaconder) is a song by Nekci Menij from her third studio album, The Penkpront. The song serves as the second singel from the album. The song was composed by Menij herself.
Nekci mentions the song in the episode Comeback (Part 2) as she reminds everybody about the single's release and shows the cover on the screen at the flop meeting.
Ad blocker interference detected!
Wikia is a free-to-use site that makes money from advertising. We have a modified experience for viewers using ad blockers

Wikia is not accessible if you've made further modifications. Remove the custom ad blocker rule(s) and the page will load as expected.